Capcom has found great success at the beginning of this year with Monster Hunter: World, which held the number one spot for the best selling game of 2018 until Far Cry 5 released last month. Monster Hunter: World, Marvel vs. Capcom Infinite and Resident Evil: Revelations 1 & 2 (Re-releases) combined for a total of 13.4 million copies to wrap up Capcom's 2018 fiscal year. Capcom has said for the 2019 fiscal year they have two major titles planned, with other smaller titles planned for a projected sales amount of 7.4 million. We already know that Devil May Cry 5 is in the works and will likely debut at E3. That leaves the question, what is the other major title? Some analysts are saying that Dead Rising 5 could be a possibility, though with Dead Rising 4 underperforming across all platforms it would be a risk to bring a follow up so soon. There's also other factors to consider, like the reported layoffs at Capcom Vancouver.
Here's the excerpt from the financial statement showing Capcom will announce two more games in 2018: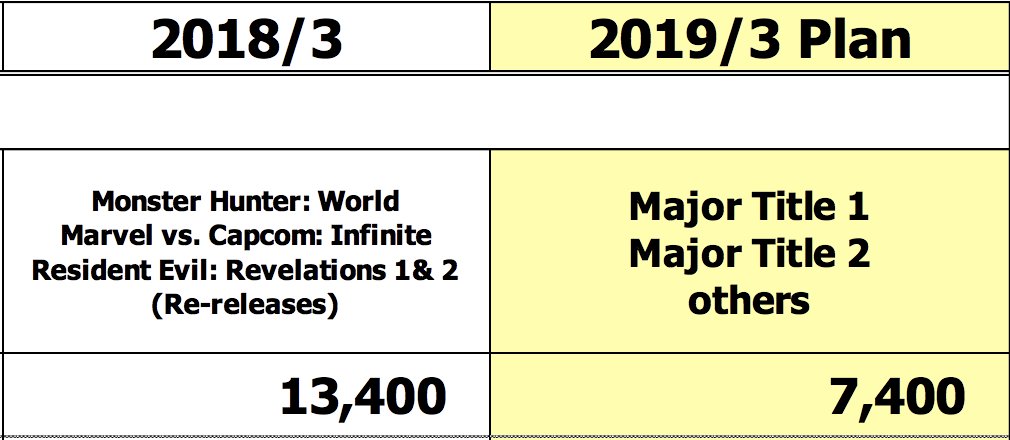 With this announcement, Capcom showcased the sales of their most prominent IPs. This list showcases some of the most memorable and innovative franchises in gaming. Resident Evil is sitting at 83 million units sold, and with the success of Resident Evil 7: Biohazard, it is safe to say we could be seeing another game in that style soon.

What games would you like to see Capcom announce? Let us know in the comments!