Well, this is certainly an exciting coincidence! After the dreaded forty-minute long showcase of Color Splash on Nintendo Treehouse at E3, it seemed like Nintendo themselves had forgotten Paper Mario was once a competent game series. Thankfully, shortly after all that was said and done, they've released Super Paper Mario on the Wii U's eShop! Now two of the three Paper Mario games are available directly from the eShop (with Thousand Year Door still missing unless Nintendo suddenly announces they will put Gamecube games onto there), but how does this particular one hold up? Well, let's celebrate the release with a review and have a dive into the plot!
Story
Par for the course with Paper Mario games, the game begins at Mario's house, with both of the brothers relaxing. Instead of taking action after reading mail from Peach, however, we instead have Toad coming in to tell them that the princess has been kidnapped. What I love about this exchange is how much the characters hilariously exaggerate the shock from the thought, almost as if this was the first time Peach has ever been in any danger.
After Luigi suspects Bowser's behind this, the two head off to his castle only to find that he was only preparing for an attack rather than actually triggering one. That's when this game's main villain comes in – Count Bleck.
As some chaos ensues, spreading the heroes around and all, this strange magician apparently hypnotizes Peach into marrying Bowser (No, really) so he could create a Pure Heart, several of which he supposedly needs to put his plan into full force. Said plan is to engulf the entire universe with a black hole that players see in the background of Flipside, a place Mario resides in to store the Pure Hearts he finds throughout his adventure so they don't fall in the wrong hands. He is accompanied by a butterfly-looking thing named Tippi, who, like Goombario and Goombella from the previous games, serves to give Mario hints and, in her case, helps uncover hidden paths or objects.
The plot can be summed up as "baddie bigger than Bowser wants to destroy world, and Mario and co. must stop him", but much like any good Mario RPG (despite this game being a puzzle-platformer-adventure hybrid), the game is filled with all sorts of substance that makes the story all the deeper and persona-filled. The game is divided into several Chapters, and each Chapter has a unique world with a cast of characters ready to have some of the spotlight. There's one Chapter where Mario meets a caveman-like population of people called Cragnons, and he must stop an anthropomorphic flower organization from attacking their villages; another Chapter introduces an anime-loving super-nerd chameleon whose jokes will hit straight home for readers that avidly embrace geek culture. And every time a Chapter is completed, there's a segment of a romance story about a couple that strives to stay together but continuously struggle doing so. It actually ties in with the game itself much later on in a welcome twist.
What I love about the story is that you never know what happens next. I could describe the general ideas of each subplot and overall story, but what happens within is bound to surprise and entertain. All I can say for certain is there is a variety of things to look forward to! The sense of humor is back and and as funny as it always has been, ranging from broad jokes anyone can laugh at to jokes for surprisingly specific portions of the audience to understand.
The characters are pretty darn enjoyable in their right. The supporting cast has a multitude of personalities and fun characters to laugh or relate with, but Mario's talking tag-alongs also have excellent moments in the limelight, especially Luigi; whoever came up with Mr. L deserves a medal, no questions asked!
If there's anything I'm bothered with story-wise, it's that….Mario's partners are one-dimensional. Each of the partners get rescued in each of the Chapters, but as soon as they introduce themselves properly, they never say another word throughout the game. The only partner that has any sort of significance to the storytelling is Tippi, and granted her role is stronger than those that took it in previous games, but Mario's other partners only serve gameplay purposes and nothing else, which is disappointing when one would want to ponder what they think of the events that unfold during play.
Other than that, the story checks out greatly!
Graphics
Running at a silky-smooth 60 frames-per-second without much technical hiccups if at all, the game keeps itself at a solid rate and playability. One thing I can applaud about the graphics is they certainly have a sense of style to it; things are looking more surreal and strange on a general level, but they have their appeal, and it isn't like anything looks hideous in the game. Frankly, though, I would have preferred that everything was as fully rounded in design as Mario and co. It isn't like they mesh too well with their surroundings, and it seems odd to go this route for a game in the Paper Mario series.
Sound 
Just like its predecessors, Super Paper Mario has a diverse soundtrack that is bound to have something for everybody with a taste in music, albeit not quite to the same extent. There's a distinct sound to this one, but it affects the atmosphere more than it benefits catchier tunes. The music still checks out, but there's something about the sound effects I find weird. They aren't bad by any means; in fact, they are still memorable, but the pitch for most of the familiar Mario sounds are oddly lowered.
Gameplay
Unlike the first two Paper Mario games, Super Paper Mario takes a drastically different approach for its gameplay mechanics. Instead of being a pure RPG, we now have an immense hybrid of a puzzle-platform action-adventure with some RPG elements sprinkled in. Upon first glance, it looks a lot like a 2D Mario game, but while you can jump on enemies to kill them and move right to progress, there's also the usage of multiple characters, partners, environment puzzles, and the ability to flip to 3D space for a limited amount of time.
There's definitely a lot of toys to play with, but Super Paper Mario manages those things in a way in which it doesn't get complicated. For one, the game is only ever played with the Wii Remote (eShop re-release possibly not withstanding), which admittedly does feel a tad odd when it comes to running around in 3D, where I would rather be able to use the analog stick via the Nunchuck peripheral instead of the Remote's D-Pad. But anyway, all switchable characters and features can be selected by means of pressing Start, where the appropriate selections are listed accordingly; you pick between playable characters, the partners, and items (most of which make a return from previous titles).
The characters available over time are Mario, Peach, Bowser, and Luigi. Each character has a unique trait about him or her that can be utilized during platforming play or puzzle solving, such as Peach's ability to glide with her parasol, Luigi's high jumps, Bowser's fire breath, and Mario's newly found 3D shifting. Partners add more situational uses and/or ways to kill enemies differently, such as Boomer exploding as a bomb, Thoreau allowing characters to pick up and throw enemies or objects, and Thudley providing a ground pound ability.
As much as it seems like there may be a lot to utilize, Super Paper Mario keeps things at a consistent flow that does anything but overwhelm. It has many instances where the environments provide stage designs that wouldn't look too out of place from a 2D Mario title, allowing players to take off their thinking caps until a further notice that subtly prompts the game to start feeling more like Paper Mario again. And it does work. Very well, I may add.
The only issues I have with the game in terms of its gameplay reside around certain levels that kind of toss their own gimmick into it, such as one level late into the game that's a rather confusing maze requiring you to shift to 3D often. Probably the biggest offender here is Chapter 2-3, where Mario and co. "accidentally" break a vase sitting on a "?" Block, and are forced by one of the villains, Mimi, to work to obtain Rubees to pay off their sudden debt.
Granted, there are means of working around actually taking the time to do the mundane tasks Mimi points to, but if you don't know what the password is for the safe that contains all the Rubees needed to pay, you'd be bound to do one of the tasks for a bit, which isn't really fun. Soooo………
The password for the VIP room in that level is 5963, and the password for the safe of Rubees is 41262816. This should totally save you from this level's boredom.
Verdict
Certain quirks and irks aside, Super Paper Mario is lots of fun and reminds me plenty why I fell in love with the series in the first place whilst also delivering new gameplay mechanics that are enjoyable in their own unique ways. I recommend the previous Paper Mario games over it, but since they set the bar so high, that doesn't by any means imply that this game is at all mediocre or bad. In fact, on many aspects, it's great.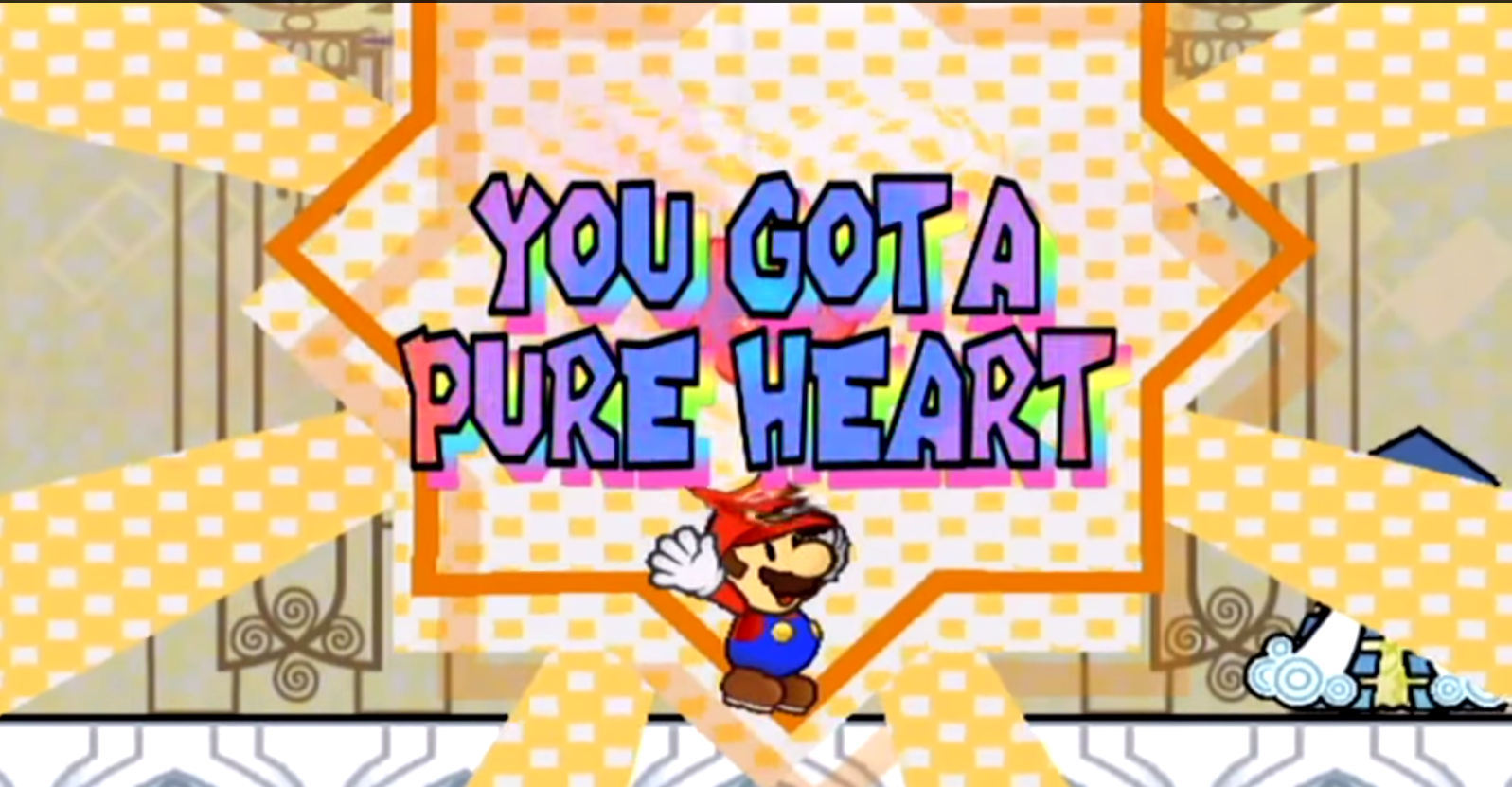 And with all that's said and done, this game became the end of an era for this branch of the Mario franchise. All that have created the first three Paper Mario games have abandoned ship since, and no more would creativity soar beyond the idea that Mario's made of paper, the very thing publications mocked back when the first game was originally unveiled before they realized it was actually an excellent RPG with interesting play mechanics and presentation. Only time will tell if Nintendo can realize the original Paper Mario trilogy has merit, but for now, players should definitely check this game out for a fun unique Mario adventure; heck, buy this and Paper Mario 64 off of the eShop! In total, they are half the price of Color Splash (not counting possible sales), but destined to be infinitely more enjoyable.